Nicola Monopoli

---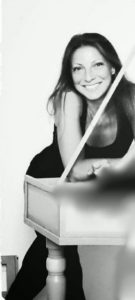 Eloise Ameruoso, piano and harpsichord
Eloise Ameruoso got her Piano Diploma under the guidance of Sergio Cafaro and the Second Level Academic Diploma with highest honors between Rome and Bari in connection with her Univeristy Degree at the DAMS faculty in Bologna. She decides to deepen the keyboard repertoire beginning the study of the harpsichord. Really fond of ancient music she gets the Traditional Diploma and the Second Level Academic Diploma with highest honors studying with Vera Alcalay at the Conservatory of Bari, specializing in the French music of the seventeenth and eighteenth centuries.
Currently she's been involved with the recovery and the transcription of manuscripts of Renaissance and Baroque composers from the city of Bari (Italy) and by reinterpreting them with philological precision and baroque instruments with the Dominae Ensemble of which she is the founder.
She won many national and international competitions of ancient music including City of Paola, Wanda Landowska, Eratai, Lucia Iurleo.
She participates in both ancient and contemporary music including Niccolò Piccinni Ancient Music Festival, UrtiCanti Contemporary Music Festival, Pomarico Vivaldi Festival, BariAntiqua, Bisceglie Holiday (Bisceglie Festiva), MusicArte, Il Mondo della Luna.
She works as a speaker for critical interventions during seminars, study days or concert hall programs in addition to carrying out teaching activities of Music History. She also carries out an intense activity as an organizer of musical events, festivals and concert seasons.
Forthcoming publication is the transcription Prototipes by Michel Corrette for Ut Orpheus publisher.