Call for Master Recordings:
Electronic, Electroacoustic, Acousmatic & SoundArt
---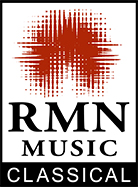 Accepted Genre: Electronic, Electro-Acoustic, Acusmatica and Sound-Art
Deadline: January 31, 2016
Notification of winners: February, 28 2016
Release of the Album: Summer 2016
Submission fee: £22.00 (Sterling Pound)
At RMN Music, we are very happy to announce the official launch of a new series of commercial releases dedicated to Electronic Music, ElectroAcoustic, Acusmatica and Sound-Art.
About the project
Through this project we aim to pick the best compositions and master recordings.
Our goal is to produce and release an outstanding professional and elegant commercial release.
The final album will be distributed worldwide on a high quality edition and available for streaming and digital download on iTunes and many other platforms (iTunes, Google Play Music, Amazon Music, Spotify, Deezer, Rdio and so on…).
What's the reason of this call?
We would like to develop a new catalogue focusing on Contemporary and Modern Music.
We want to discover and promote new Contemporary Composers which work has not been commercially released on a full CD or digitally yet.
---
The selected works will be included in the release and will receive:
• Professional mastering of the album.
• Professional design of the booklet and of the cover artwork.
• Liner notes and texts for the booklet.
• Licensing and Copyright clearance.
• Full contracts and agreements with the winning composers and artists.
• Manufacturing of the Cd.
• Barcodes, Isrc codes.
• Worldwide distribution.
• Promotion, Advertising, Press release coverage.
• Each winner will get 30 copies of the CD.
• The winners will keep the copyright of the work.
• Every winner will get a share of the sales of the album.
To ensure the highest quality and for the above services, the expenses and the cost of the production of the release will be partially covered by RMN Music. The remaining part will be partially extended to the winners. This allows for the winners the access to a commercial release at a fraction of usual costs.
---
We are looking for top quality.
Before starting the submission process please double check to have everything ready:
– Only original work not yet released on a commercial CD (or digitally).
– The duration of the work should be between 3 and 12 minutes. We do not accept anything less than 3 or more than 12 minutes.
– The recording should be a studio recording (exceptionally top quality live recordings can be considered).
– For the selection process please submit only MP3 files. If you will be selected as winner we will ask you to submit a .WAV file 44.100/24 bit.
– The recording should be the final edit. It has to be ready to be professionally mastered and printed on a commercial release.
– Please include notes about the work, the composer, the performer (when different from the composer).
---
Any Composer/Artist of any age and nationality can submit his or her original work.
Can I submit more than one recording?
---
Yes, any participant can submit more than one recording, but only one project will be selected as winner.
SUBMISSION ARE NOW CLOSED